Thank you to Travelers and to the Travelers Championship for holding a benefit dinner that raised more than $1.3mm for the Bruce Edwards Foundation.  Hosted by Jay Fishman, the former Chairman of the Board at Travelers, the dinner was held during the Travelers Championship PGA Tour event in August 2016.  Mr. Fishman, who passed away from ALS later that month, was an inspiring and tireless advocate for a cure.  We are honored to accept the donation in his memory.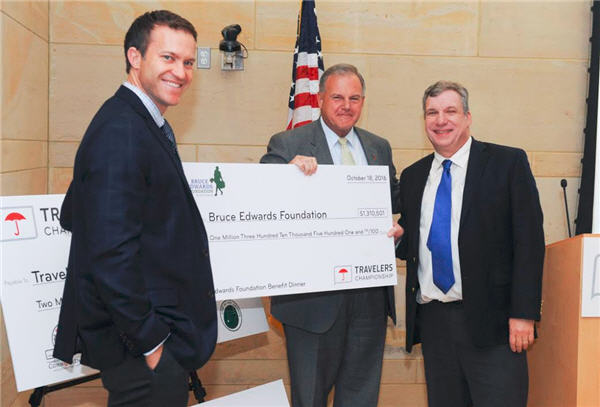 Travelers Championship Tournament Director Nathan Grube (l) and Travelers EVP Andy Bessette (center) present a check to John Feinstein for more than $1.3 million to the Bruce Edwards Foundation for ALS Research. 

Welcome to the Bruce Edwards Foundation

The Bruce Edwards Foundation for ALS Research is dedicated to finding treatments and, ultimately, a cure for ALS.  We are a nonprofit organization and all money raised goes to organizations and medical facilities dedicated to ALS research.  Our primary beneficiary is the Robert Packard Center for ALS Research at Johns Hopkins in Baltimore, Maryland.  The Bruce Edwards ALS Celebrity Golf Classic is the major fundraising event of the Foundation.

Since the first Bruce Edwards ALS Celebrity Golf Classic in 2005, more than $5 million has been raised for ALS research.  Celebrity golfers regularly participating in our event over the years include PGA golfers Tom Watson, Andy North, Jay Haas, and Paul Goydos; NCAA basketball coaches Gary Williams, Roy Williams, and Jim Calhoun; former NBA great Sam Jones; New York Times columnist and Pulitzer Prize winning author Tom Friedman; and Washington Post journalist and author Bob Woodward.

Our
story
In April 2004, Bruce Edwards, longtime friend and caddy of PGA golfer Tom Watson, died from Amyotrophic Lateral Sclerosis (ALS), also known as "Lou Gehrig's Disease."  Bruce actively worked on the Tour until just a few months before his death, and became the subject of the best-selling book Caddy for Life, written by renowned sports journalist John Feinstein.  

After Bruce's death, Feinstein and Watson joined forces to create The Bruce Edwards Foundation for ALS Research, which provides fund to medical research facilities dedicated to slowing the progression of and finding a cure for ALS.  The Foundation and its primary fundraiser, The Bruce Edwards ALS Celebrity Golf Classic, fulfill a promise made to Bruce by Tom to help find a cure for this fatal disease.

To date, the Foundation has raised more than $4 million for critical research at the Packard Center at John Hopkins University as well as other ALS research facilities.  Our efforts will continue until a cure is found, and we appreciate the support of the celebrities, sponsors and players in our fundraising tournaments, and the network of local partners who donate to our Foundation.
Fundraiser and Tribute to Bruce

Special thanks to Norwood Hills Country Club in St Louis, Missouri for hosting an ALS event in the summer of 2016 and donating more than $76,000 to our Foundation.  Tom Watson was on hand for the unveiling of a special plaque dedicated to his and Bruce's friendship.  The plaque reads: "Here at Norwood Hills in 1973 started one of the greatest golf relationships ever.  Tom Watson met Bruce Ewards, his beloved caddie and lifelong friend."  We are so grateful to everyone at Norwood Hills for their recognition and their donation.